Boo! And Arrow #122282
Arrowhead's Once in a Lifetime X CH Boo!
"Frankie" is a beautiful, 7 year old, flaxen gelding that has those perfect ears. Frankie's personality would work well with a juvenile rider or an adult who is wanting a thrilling show experience. 
Contact Us
Consider Me Timeless #144229
Champagne's Favorite Son X Secretly
"Chanel" is as game as they come and is very eager to please. This 9 year old mare is ready for action! She has been shown in both Amateur Park and Show Pleasure Divisions. Pleasure prospect.
Contact Us
Dignity's Don't Tell Daddy #150349
HS Daydream's Dignity X Stonehedge Supreme Style
"Skye" is a cute, punched up, 4 year old mare who never bats an ear! Broke to ride, drive and long line. This mare is all go and would make a great kids horse one day!
An Irish Victory #124886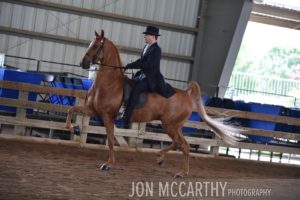 Murphy is a 4 year old gelding who is growing up to be one big and beautiful boy! As a full brother to Courageous Victory, he has plenty of neck to spare! Broke to ride and long line. Green broke to drive. 
Contact Us
Mari's Time #150780
Arrowhead's Once in a Lifetime X CH Lady Maya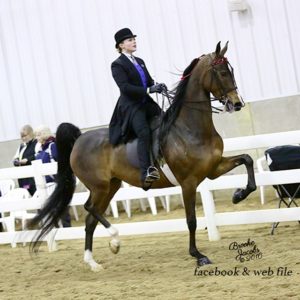 "Zoey" is a BIG 4 year old, bay mare who is a joy to work with! She thinks well, wears a curb and is all around a great horse! 
Contact Us
Spicy Bloody Mary #150921
The Last Don X Without A Trace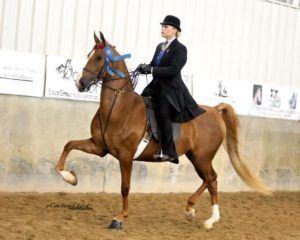 "Ivy" is a stunning 3 year old who thinks well and has promising potential. This summer she made her first go around the show ring and won her training class out of 5. She is the full sister to Tom Collins. 
Contact Us
Forty-Second and Divine #143490
Forty-Second Street ERB X Lady Astoria
Do not miss your chance to own this big moving mare! "Stella" has been shown successfully in the Park Pleasure, Country Pleasure, and Open English Pleasure divisions. 
Rocky Point #147180
CH Great Day's Came the Son X Point Break
SOLD!
Congratulation to Kathy Hall on her purchase of "Stella"! We are so thrilled to keep such a great mare in the barn!
My Kinda Design #145894
My Kinda Lovin' X My Daddy's Design
SOLD!
CoCo Bay #148470
El Dorado's Stonewall Jackson X Majectic's Tres Attache
SOLD!
Congratulations to Evelyn Deppenschmidt on her purchase of "Bella" for her granddaughter Maggie Mackintosh.
Don't see what your are looking for? 
Please give us a call and we will try to assist you in finding your next show partner!